Spammers = Sh*t!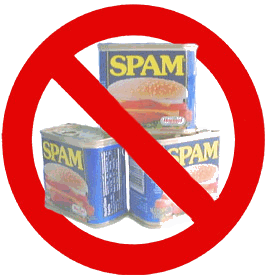 For the last week the B3 site has been hit by a certain form of spam.  No, not the Spam in a can.
Since last Wednesday (I believe), we have been hit with spammers who go by the names jonn1, jonn2 and jonn3, and they appear to "represent" some fake companies dealing with perplexity and partygirls. I'm not gonna list the whole name, for that would only pour most salt into the wounds.
We here at the Boston Bastard Brigade do not tolerate this sort of shenanigans on our website, and we certainly do not appreciate having to work through to delete it from both the page and our email.
I urge anyone who commits these sorts of deeds to stop.  Otherwise, I'll have Anvil and Shades find out where you live; and you not take pleasure in what they'll do to you.
Love,
King Baby Duck
Share your 2 cents