All's Fun In Love(Sac) & War At 2010 Speedrun Classic
Held at the Showcase Live in Foxboro, MA (next to the beautiful Gillette Stadium) the 2010 LoveSac Speedrun Classic was a night filled with gaming, music, tasty food 'n' drinks and all-out relaxation. King Baby Duck & Blueonic were invited to take in the festivities, and were able to experience the fun and excitement that filled the air at the small, private gathering.
King Baby Duck: This year's finals had twelve combatants battling it out against one another in four classic NES games: Battletoads, Mega Man 2, Super Mario Bros. and Contra. Here, instead of the usual point system, players had to beat a specific part of the video game as quickly as possible, leaving room for the competitors to either mess up with their timing, or quickly find some shortcuts that will help them finish each level. Once the final three players are chosen for the championship they must play the first two levels of Super Mario Bros. 3, kind of like in that movie The Wizard.
Before the Finals commenced the players had a chance to fiddle with the four main games, and as they tried figuring out the right paths to take it became apparent which competitors were there for a good time, and which ones were there to be victorious. The sounds of laughter came from those that were there for fun; the sounds of silence -- accompanied by the stares of determination -- belonged to those who wanted to win. However it would be a mixture of both fun and perseverance that would bring triumph within the confines of Showcase Live. Prizes would go to the top three gamers, but only one would get the Powerglove trophy.
Gamers played the five classic titles on the sponsor's NES-styled furniture. We spoke with LoveSac's Boston Market Manager Chris Stringham, who showed us how the furniture can be organized. What's great about their couch system is that you can buy each "Sactional" separately as time goes by, and then in the "Adult Lego" process put together the Lovesac pieces in various ways to your liking. Not only were the cushions comfortable, but they were machine-washable; just zip off the covering and throw it into the washer, perfect for pet-owners and messy eaters. On display as well were LoveSac's Pwnage PillowSac Ultimate Gamer beanbag-styled chairs, whose comfort level even rivaled the Sumo Lounge bean bag chairs used all over this past year's PAX East. (Though the online price tag of $495 may seem steep the fact that it can be used as a cozy sleeper -- thanks to its 54" X 75" size -- makes it a good price in the end.) In short: if you're a gamer looking to give your pad a comfy old-school look, then LoveSac might just be the furniture you've been looking for.
Blueonic: Getting invited to this competition was a great chance to hang with awesome people, play some video games, and sit in some damn comfortable seats. It was an awesome time that the company LoveSac had put together for this competition, where people come together play some classic games, have some drinks at the bar, and eat delicious food that was provided by Patriot Place. Showcase Live was the perfect size, seeing as they have some pretty amazing concerts held at this area. Speaking of which we won four tickets to go and see the Bronson Arroyo Band. We were wicked happy about that, and as soon as we found about getting the tickets we called up Anvil, him being such a sports fan. Once he heard we won those tickets he was going "Wahoo!!!" on the other side of the phone. If he could accomplish a back flip he would've done it right then and there.
Photos by King Baby Duck & Blueonic
It was awesome to meet all the finalist that came in, gamers that just tried out at the local stores/colleges, along with the people who just game on a daily-to-weekly basis. The age group was great, ranging from young kids to college students. I have to give it to LoveSac for their brilliance of creating this event, and having people come together play some great classic video games; not to mention enjoy their awesome LoveSac Sactional furniture. Everyone who came to hang out had a great time. No one lost, as everyone was a winner in some shape or form. From the giveaways they were doing -- ranging from gift cards for the LoveSac website to the awesome concert tickets -- to just chilling out and chatting with the other gamers, it was just an awesome time all-together. Thanks again LoveSac for a great competition, and I look forward to the store opening: Burlington Mall, Massachusetts October 29th. You've got to love the grand openings, what with the sweet deals they always give.
Congratulations to the winner of the 2010 LoveSac Speedrun Classic Power Glove Trophy: Bryan Turcotte!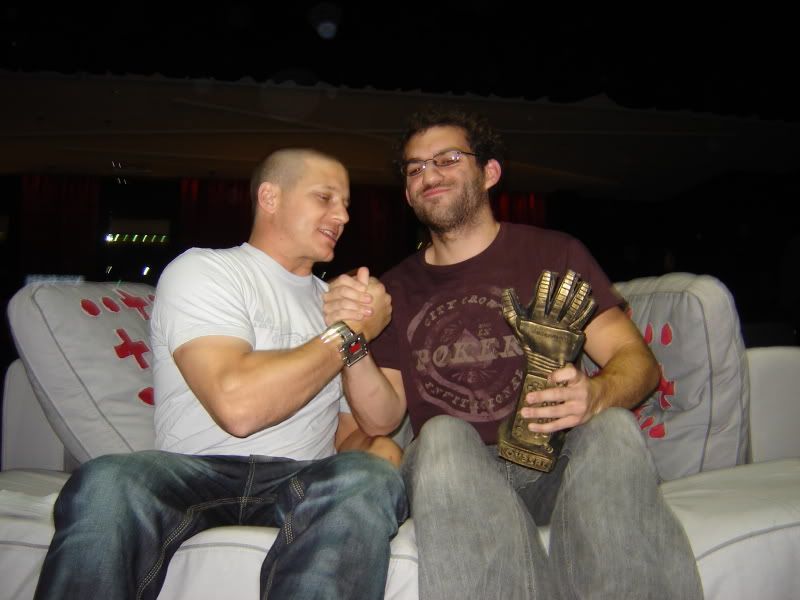 Click Here to go to LoveSac official website.
About LoveSac's 69 Sactional Positions:
These are the levels the gamers had to face:
The Final Three had to play this for the Championship:
Share your 2 cents